South Korean machine tool giant Doosan is demonstrating its die mould processing machine DNM II Series at the ongoing Die Mould India scheduled from April 06-09 in Bengaluru, India. Designed for high speed and high precision, the DNM 400 II 8k[12k] is equipped with a powerful belt driven spindle motor and the optional 12k utilizes state of the art direct drive technology. Advanced technological features and construction provide superior performance in any type of manufacturing environment.
DNM II series are available with a diversity of spindle specifications to meet various requirements. Roller LM guide enhances rigidity and extends service life. Utmost accuracy is achieved with direct coupled spindle structure and standard thermal displacement error compensation. The operator panel is redesigned to improve operator convenience.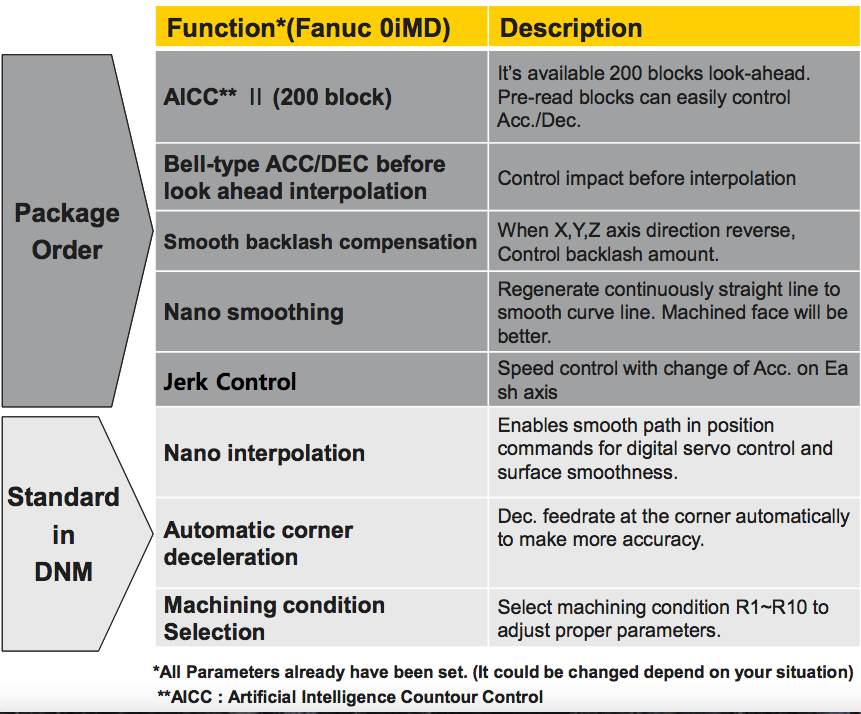 Key Features of DNM II Series: Doosan EZ Guide i conversational programming, User Friendly Operator Panel featuring single function HOT Keys, QWERTY key pad, USB port and Portable MPG, Roller-Type LM Guideways provides best-in-class rigidity and durability, 30 Pocket Automatic Tool Changer, Big Plus Spindle System provides superior tool holding rigidity.
Other die mould processing Solutions from Doosan:
NX Series
The NX II series aims to strengthen the spindle and have a long life compared to previous models series by adopting a static pressure spindle. Operation has been made more convenient by improving chip disposal, accessibility and reducing the installation space.
The NX II series takes performance and strength to a whole new level. With its double column design and high speed spindle, it provides the best stability and rigidity possible for today's market demand for high-precision, high-efficiency part machining. The precision dynamic balanced spindle of the NX II series is result of years of machining industry experience. Assures lasting performance, high-stiffness and thermal control.
DVM Series
Developed to provide high precision and high performance for die & mold machining, the DVM II series seeks to make the spindle harder and last longer than the preceding DVM II series by opting for a static pressure spindle. The door width has been expanded to 2-door to make product installation more convenient. Furthermore, the quality of machining has been improved by standardizing the nut cooling ball screws of each spindle and the heat-shielding insulation in the columns in order to minimize heat displacement.
VM Series
The VM 960 is designed for long-term high accuracy and superior surface finishes. Classic manufacturing methods and ultra rigid construction are combined with advanced technological features to provide exceptional performance and value.
Main features of VM series include: Fanuc 31i-B control with USB Port, powerful 2 gear spindle motor, high precision spindle with one single-row cylindrical bearing and frour angular contact bearings, wide induction hardened and precision ground box way construction, servo motors mounted directly to oversized ball screws, pendant operating console, rigid tapping, cam type double arm ATC 40 tools, Metered piston distributor lubrication, Telescopic way covers, etc.